The freebies you get here are downloaded through the BookFunnel App. BookFunnel allows you to select a preferred format: Epub, Mobi, or PDF by choosing your reading device. The app is made for Android, Apple, and Kindle.

Download the Bookfunnel App
If you are using a mobile device, you can go to the BookFunnel site and pick up the links to the app stores there. You can also search the Apple App Store or Google Play for the app, but Amazon does not offer it. However, you can install it to Kindle devices from the BookFunnel site.
My Freebie links take you directly to the BookFunnel site which gives you options to install the app, get a book code, download the file to your PC, or email the file to yourself.
Note: Before you install BookFunnel App to Kindle Fire, go into the settings of your Kindle Fire, click on Security & Privacy, and TURN ON Apps from Unknown Sources. This allows you to install apps that are not Amazon's property. Amazon makes it sound scary with the word "Unknown" because they want you to use only their proprietary or approved apps.

On our menu, click on "FREEBIES FOR YOU" and choose your freebie. (You can come back and get the second one too.)
You'll be taken to the book's landing page on the BookFunnel site. You'll have a choice to begin reading the book on your browser or to "Get My Book."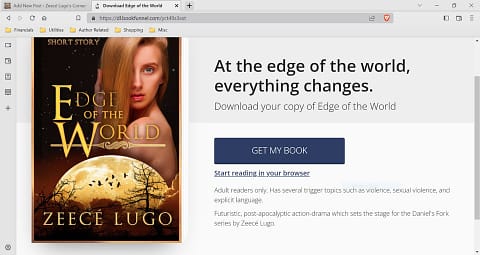 Click on "Get My Book." If you already have BookFunnel installed on a device, just grab the Book Code from the entry at the bottom of the box. This code is specific to each book and enables you to download it easily on your app.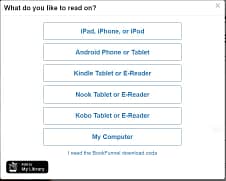 If you need to install BookFunnel, then look at the options:
"What do you read on?" You get a list of choices. With each choice you also get the option to email the book to yourself. Each choice has its own process. Just follow the instructions for your device.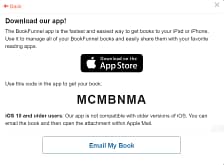 BookFunnel gives you a choice of Kindle readers as well as a Mobi file. If you choose the Mobi file, it will download to your computer or mobile device to be saved.
You have options to install for Android, Kobo, and Nook as well. Once your Bookfunnel App is installed, you never have to do it again. Most authors now use BookFunnel to gift and to distribute books from their own independent online stores. It's an app you'll use again and again.
If downloading the app is something you don't want to do, then choose the Mobi, EPUB, or PDF File. You can still store it and sideload it into your device.