The process for freeing book files from vendors depends on the vendor. Calibre removes DRM from Kobo and Barnes & Noble books as well. The only books Calibre cannot free are iBooks from Apple.
To free a Kobo book, Calibre uses the Obok_Plugin which downloads together with the DeDRM tools.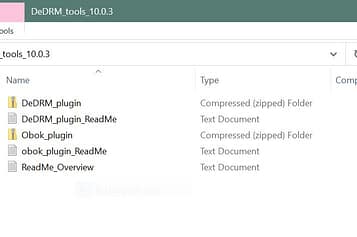 Install the plugin exactly as you installed DeDRM. You open Calibre, go to Prefences, Plugins, Install Plugins from File. Select the Obok_Plugin (Calibre unzips it for you).
There is no Kobo library to use as there is with Kindle for PC. However, you will see that one is not needed.
Go into the Kobo store and click on "My Books." As you look at your Kobo library at the store, you'll see under each cover, three dots. They turn red when you hover over them. Click on those and select the "Download" tab. The book will download to your computer's Downloads directory.
The file on your Downloads directory will look like this.

Now, open Calibre. Click on "Add Books."
Select "Add Books from a Single Folder."
Navigate to your Downloads directory and select the book file. Calibre will pull it in immediately. It will have its DRM removed and already be in Epub format.
Kobo books are probably the easiest to liberate as all you need is to buy the book and download it to your computer. This means that even if you do not own a Kobo device, you can buy books from them.